Top 5 Tennis Rackets for 2020
It's tough to pick a racket, especially if you're the type of player that hates making a switch. However, every year, racket technology evolves, and the very least you should do is test out some of the new sticks out in the market. You never know, you may fall in love all over again!
So, what are the rackets everyone is talking about in 2020? We know you can't test every racket out there, especially in this day and age where the category is flooded with choice. The good news is that the usual brands that have led the pack, are still leading the pack. Wilson, Babolat, and Head, continue to provide players of all levels with solid choices.
Here's my top 5 picks. It includes a mix for beginners to advanced players.
5. Babolat Pure Aero Lite. This is a great beginner racket. It's nice and light with a big head to allow you to focus on improving your game. In a couple of years, you'll be able to transition into the Babolat Pure drive. However, in the meantime, the larger frame will allow you to get a lot more balls over the net as you work to get to the next level.
4. Head Graphene 360 speed MP. This is good for intermediate and advanced players. It gives you nice control, spin and power. It also gives you both these three things effortlessly. This is a great all-around racket.
3. Wilson Blade. this is still the go-to racket for many pros and collegiate players. Serena won a few Wimbledon's with this racket. Perfectly balanced for control and power, this racket is perfect for the intermediate to advanced player.
2. Babolat Pure Drive. the most successful racket they have ever made, a classic used by Andy Roddick and Nadal before he had his own racket. This racket is great for beginners (the 110 head size), intermediate, and advanced players. Blog after blog gives this racket the "best all around" rating. However, one of the things I think this racket does really well is provide great top spin for players at all levels. Top spin is their thing.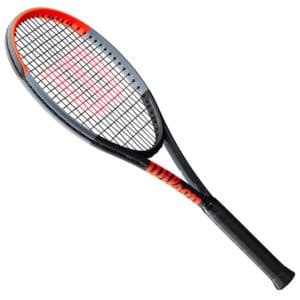 1. Wilson Clash. The consensus is that this is "the" racket right now. It has tremendous flexibility and comfort without sacrificing power and control. This racket is pure "butter" and is on trend to keep Wilson at the top of the racket wars for years to come. Sales and glowing reviews at every turn don't lie. Also, the lineup includes versions for beginners, intermediate and advanced players alike.