The Best Bags of 2018
2018 is a big year for cutting-edge tennis products, and there is no exception when it comes to bags. From duffels to backpacks to totes, tennis bag design and functionality are at their best this year, keeping up every step of the way with the products they are created to encase.
Here they are, some of the best bags to hit the courts in 2018:
The Head 2018 Tour Team Backpack has a new modern style and shape with optimal organization, including a main compartment with separate shoe storage, a racket compartment that fits two rackets, one front pocket, and two side pockets, providing plenty of space for your gear and extras.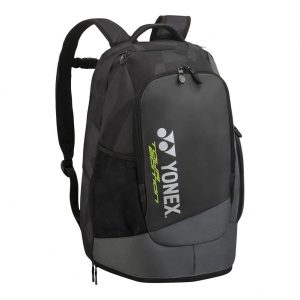 The Yonex Pro Racquet Backpack contains a compartment that has the capacity to hold two rackets, along with a separate space for shoes or other items at the bottom. Mesh pockets on the sides can hold a bottle of water and a canister of tennis balls, and another pocket provides space for smaller items. A nice feature of this bag is an accessory pocket on top, a perfect spot for items you would like to be able to get to quickly and easily.
The Wilson team 3-Pack Racquet Bag is continuously recognized as being a high-quality, lightweight, and affordable must-have. Not only does it have a sleek look with a stylish red/grey design, but it is also very well-made, capable of carrying two racquets and plenty of space for other items, or three rackets without additional items.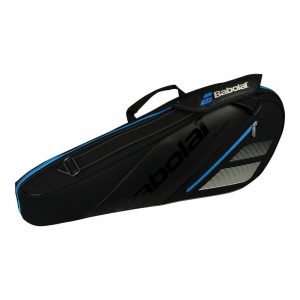 The Babolat Team 3-Pack bag has been updated for 2018, containing one main compartment that will hold up to four rackets, or fewer rackets and additional items. Four small accessory pockets allow for further organization and a padded shoulder strap allows for comfortable carrying of all your gear.
Babolat also has updated bags in larger sizes. The Babolat Club Line 6 Racquet Bag features accessory pockets and a padded handle and strap. It also offers two spacious main compartments that have the capacity to hold up to six rackets and additional items.
For the pro with serious carrying capacity needs, Babolat delivers with the updated Pure 12 Pack which contains three compartments with the capacity to hold five rackets each! Two of the compartments have Isothermal Protection for preferred racket storage, and the third can be used for rackets or other gear.
A ventilated pocket and a removable sack are perfect for separating shoes from everything else, and additional pockets on the exterior contain organizational features for smaller items. The bag is 30 inches in length, 16.5 in width, and 14 in height, allowing plenty of room for the serious player with serious gear. Like the other Babolat bags, the Pure 12 Pack is designed with a padded handle and strap for comfortable carrying.