Shoe Dilemma
If it ain't broke, why fix it?
I have been happily wearing NikeCourt Air Zoom Vapor X shoes for years. They fit well, grab my foot nicely, and are low, so I feel secure moving on the court. So imagine my dismay when I tried to order my new pairs and realized they are no longer available! They have been replaced with new designs, supposedly with some level of improvement. I bought the "so-called" improved model, and it is no longer the right shoe for me. It provides too much of a cushion, causing me to feel like I am playing in slippers and not tennis shoes, adversely affecting my game! I do not feel secure running in them, thinking I would roll my ankle on the court.
So I ask: why?!!
If the shoes are popular and work well for many players, why discontinue the model?
I had gone through the same experience many years ago when Adidas discontinued the great Barricade II model. It forced me to scramble to find all Barricade IIs in my shoe size I could find, but there were only so many pairs! It left me without the right shoes, forcing me to spend money and time trying to find new ones from Asics, New Balance, K-Swiss, Fila, and Head with not much success, finally settling on Nike Zoom Vapor X.
The discontinuation of Barricade II was such a troubling experience that it led me to stop buying Adidas products for many years. It was an act of protest from a previously loyal customer (not that my purchase would affect their multi-million-dollar empire, but I am sure I was not the only one).
So, here is a suggestion: if it ain't broke, don't fix it!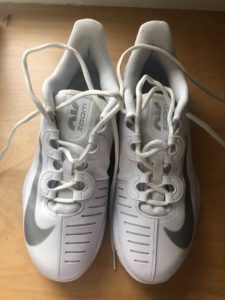 If you are trying to increase profit by introducing new products with updated technology at a higher price, by all means, do so. But please keep the popular models around so you would not alienate loyal, long-term customers.
I am still on the hunt for the right shoes. If you have a similar challenge, share your story so we can commiserate.