The Greatest Tennis Coaches Of All Time
These coaches may be internationally recognized for having coached some of the best tennis players in the world, however they've made the list because their star players didn't necessarily start at the top. Not only do their players now sit at the top of the rankings, but these coaches have maintained a humble demeanor despite their successes. They are world renown because they recognized a certain raw talent and potential in their players from the beginning and worked tirelessly to spark a fire in their determination.
This comprehensive list includes our pick of the ten best tennis coaches of all time.
Toni Nadal
Uncle Toni is without a doubt the best coach today. His nephew and player extraordinaire, Rafael Nadal has won 16 grand slams and currently sits on top of the list for ATP mens singles. In other words, he is arguably the best in the world. Rafael was a little kid when Toni took him under his wing forcing him to play left handed because it would make him harder to play against. Despite being right handed in almost everything else, Rafael claims being left handed in tennis came naturally and did indeed, give him a leg up against his components.
Rafael clamis that without his uncle, it's unlikely that he would be the player he is today. In his book Rafa: My Story, Rafael credits his skill in the game of tennis to his uncle saying "Uncle Toni terrified me, but without him I'd be nothing. Everything I have achieved in the game of tennis, all the opportunities I have had, are thanks to him."
Nick Bollettieri
This eighty year old stud is perhaps one of the most notable coaches in the world having accumulated decades of success as a tennis coach. Even to this day, Bollettieri rises with the sun at his Florida tennis academy to hit the courts. His love for the sport has resulted in tons of success for his students, including ten players who have reached the world No. 1 ranking. His player portfolio includes: Boris Becker, Monica Seles, Courier, Agassi, Martina Hingis, Marcelo Rios, Serena and Venus Williams, Maria Sharapova and Jelena Jankovic. Bollettieri credits his success as a coach to being relatable and coaching each player as an individual in need of customized direction.
Marian Vajda
Vajda's star, Novak Djokovic is considered one of the best tennis players of all time. He took Djokovic from No. 40 in the world to No. 5 in just 12 months. This Slovakian coach has also led Djokovic to 12 grand slam titles and is a large reason why the player is a champion in a league of his own. Humble as ever, Vajda would never take such credit.
Ivan Lendl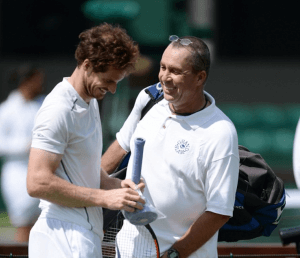 Once a former tennis champion himself, Ivan Lendl took the talented tennis Scot, Andy Murray under his wing and it seemed his unlucky strike was imediately over. Despite being able to get himself to various grand slam finals, Murray lost his first four major title matches, and with straight set defeats. In came Lendl and changed Murrays demeanor on the court, making him the ballsy, mentally fierce champion that he is recognized as today. Lendl was never able to win Wimbledon himself but he certainly led Murray to that podium and has demonstrated what a top instructor can do with raw talent.
Franco Davin
After a second-round loss at Wimbledon in 2008 Juan del Potro was convinced he needed help. He had slid back to No. 65 from No. 40 just six months before bringing on Franco Davin as his coach. This proved to be a great decision considering he rose to No. 9 by the end of that year.
While he had never been past the third round of any grand slam, he reached the quarter of the U.S. Open, followed by the quarter of the Australian Open, the Semis of the French Open, and defeated Roger Federer in the shocking final of the U.S. Open. With such a turnaround, it is evident that Davin was able to do what del Potro could have only dreamed possible up until that point.
Brad Gilbert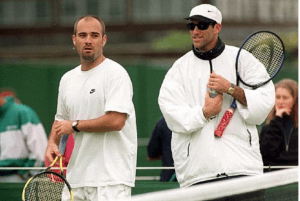 Author of "Winning Ugly," which is perhaps the most referenced coaching manual in tennis, Brad Gilbert is best known for the work he did with Andre Agassi. "He made me understand that you can hit the ball great, but if you don't play smart you are useless out there," said Agassi of his most influential coach. Even Robin Williams referred to Gilbert as a "tennis sensei," and if that isn't a compliment we're not sure what is.
Tony Roche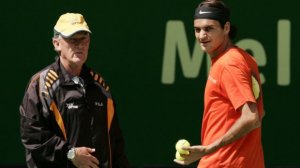 Having worked with four No. 1 tennis players, it's no wonder Tony Roche has made the list. From Ivan Lendl, to Patrick Rafter, Roger Federer, and Lleyton Hewitt, this Australian has enhanced the skills of a wide range of players. His portfolio also includes Jelena Dokic, a former world No. 4. His professional tennis background is also worth mentioning considering he won a Grand Slam Singles title and thirteen Grand Slam Doubles titles.
Bob Brett
Surely, Bob Brett's portfolio of students can't be trifled with. It includes Boris Becker, Goran Ivanisevic, Andrei Medvedev, Mario Ancic and Marin Cilic. "A champion," he once stated "is someone who maximizes his potential, not someone who has a world No. 1 ranking." Besides his past his past with tennis A listers, this Aussie founded a tennis academy in Sanremo, Italy.
Magnus Norman
In 1999 the former world No. 2, Magnus Norman had been struggling back and forth between the mid-twenties and fifties rankings. It was only natural that he would then begin coaching Stanislas Wawrinka. Prior to his relationship with Norman, Wawrinka was known for two things: being the second best Swiss player and having a rating stuck in the teens. His winning rate against the top 10 players was only 32%.
With Norman however, Wawrinka was able to reach the quarters or better during his next four tournaments, winning against the world No.8 and No.6 and continuing to the the final. He went on to the quarters of Roland Garros and the semis of the U.S. Open, bringing his success rate against the top ten up to 66%. Magnus is the perfect example of a coach who saw great potential in a player and gifted him the tools to be a winner.
Harry Hopman
It seems anyone who had the young John McEnroe refer to him as 'Mister' had achieved something great. McEnroe was greatly influenced by the time he spent working with Hopman when he was coaching at Port Washington. However, the Australian's greatest achievements as a coach came at the Davis Cup where he won 16 times as a captain. He did also have some mighty fine players including the likes of Frank Sedgman, John Newcombe, Lew Hoad, Ken Rosewall, Rod Laver, Tony Roche and Roy Emerson. He later opened the Hopman Tennis Academy in Florida where his roster included Andrea Jaeger.