Australian Open 2021 – Top 5 Quarantine Workouts
The 2021 Australian Open is only weeks away! In years past players would now be in the midst of warm up tournaments. However, due to the Coronavirus, this year most are spending that time in a 14-day isolation period. Some players like Novak Djokovic, have been complaining about the quarantine rules, while ATP players like Fabio Fognini and Frances Tiafoe, are taking it in stride, posting about life during quarantine.
However, a bunch of players, especially from the WTA, have been posting the very creative ways that they are keeping fit during quarantine. We now provide you with our top 5 WTA workouts during the Australian Open quarantine.
5. Marta Kostyuk
Some of the higher profile players have suites equipped with stationary bikes and other work out equipment. For up and comers like Marta Kostyuk, you have to improvise. And if anybody has seen those old Rocky movies, there's nothing better than jump rope!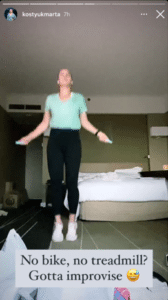 4. Petra Kvitova
Kvitova has the luxury of quarantining with either a team member or her boyfriend. This is very helpful for Kvitova's "let me throw this medicine ball against the wall" workout routine. Her fitness trainer is right there for her, picking up her medicine ball and feeding it right back to her!
3. Allison Riske
Although a top player herself, it seems Allison Riske has put together a pretty creative work out routine with her rubber bands. Check her out as she uses her tennis bag as added weight to do squats and her closet to get some arm work done! I see a hotel workout video in her future.
2. Belinda Bencic
By far the most effective workout has to be Belinda Bencic using the window as a backboard to work on her groundstrokes. She even taped up some rectangles for more efficient targeting!
1. Bethanie Mattek-Sands
The winner is hands down Bethanie Mattek-Sands. And she's the winner because it's her husband she's making do the workout. Check out Bethany's husband do squats with Bethany while in quarantine. I doubt there's many partners out there that can easily squat elite level women tennis players. Bethanie, TennisPAL salutes you!
Like always, don't forget to jump on to the TennisPAL app to stay up to date on tennis news, find groups of friends to play with, and get a virtual coach to help with your tennis game.