Athlete Profile: Rafael Nadal
Rafael Nadal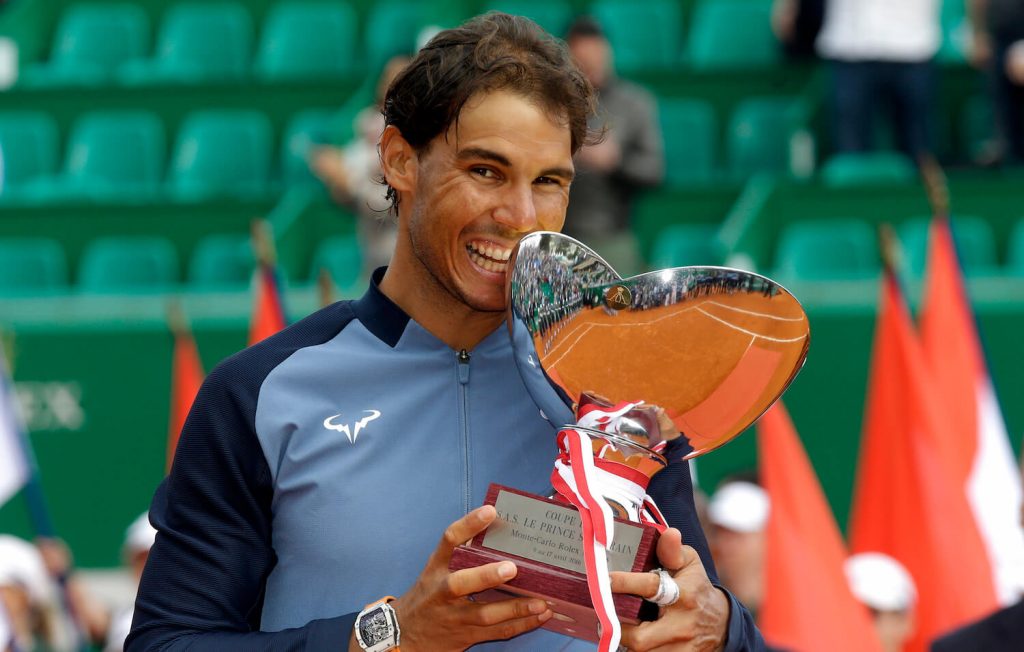 Age: 31
Weight: 188
Height: 6'1"
Birthplace: Manacor, Balearic Islands, Spain
Singles Ranking: 1
Plays: Left-handed (two-handed backhand)
Coach: Carlos Moya (2016–)
Francisco Roig (2005–)
Toni Nadal (1990­­–2017)
Career Titles: 76
Residence: Manacor, Balearic Islands, Spain
Currently ranked as the No. 1 men's singles player in the world, Rafael Nadal is known as "The King of Clay" for his phenomenal achievements on clay courts, including 10 French Open titles.
He has proven his ability on all court surfaces, however, with achievements including three US Open titles, two Wimbledon titles, and one Australian Open title. He is the second male player (after Andre Agassi) in history to complete the singles Career Golden Slam (winning all four Grand Slam tournaments and Olympic gold).
Nadal was born in Spain in 1986 and was introduced to tennis by his uncle, former professional tennis player Toni Nadal, at the age of three. Although he was born right-handed, his uncle encouraged him to learn how to master left-handed play.
By the time he was eight years old, Nadal had already won a regional tennis championship for his age group. When he was 12, he won both the Spanish and European tennis titles. Also an avid football player, his father made him choose one sport so that he would also have time for school work. He chose tennis and became a professional player at the age of 15.
By 17, Nadal had helped Spain defeat the US in the Junior Davis Cup, won the ATP Newcomer of the Year Award, beaten Roger Federer, and become the youngest man to reach the third round at Wimbledon since Boris Becker. At 19, he competed in the French Open for the first time. He won the tournament, and went on to do so for four consecutive years.
In 2008, along with his fourth French Open victory, Nadal won Wimbledon for the first time, defeating Roger Federer in the longest (according to court time, not game numbers) and perhaps the greatest final in the tournament's history. He also won his first Olympic gold medal that year, in Beijing, and reached the No. 1 world ranking for the first time. In 2009, he became the first Spaniard to ever win the Australian Open, and in 2010, he took the US Open victory.
Nadal won the US Open twice more, in 2013 and 2017. He won Wimbledon for the second time in 2010, and captured six more French Open titles, bringing his total victory count in that tournament to ten. He also won a second gold medal for Spain in 2016, in men's doubles with Marc Lopez.
Nadal ended 2017 with a return to the No. 1 ranking. In 2018, he won his 31st Masters title at the Monte Carlo Masters, accumulating more Masters 1000 wins than any tennis player in history. It was his 11th title in Monte Carlo and the 76th title of his career.
2018 continues to hold a great deal of promise for Nadal, as he faces the major tournaments with a phenomenal track record, steadily holding onto his ranking as the top male singles tennis player in the world.