Cincinnati Open Fan Guide
Most recently I reviewed the first day session at the Cincinnati Open.
You can find that blog here. Now that I am home and reminiscing of what I would have done different and what I would do the same, I thought it would be best to put pen to paper and provide a brief guide on to best navigate the tournament. 
Where to stay and how to come into the tournament
Firstly, this tournament is in Mason, Ohio, which is 27 miles outside of Cincinnati. I would suggest that if you're going to this tournament, you stay in the vicinity. We did exactly the opposite because we thought we would have better restaurants available in Cincinnati. This was a mistake. Traffic into the tournament is a bit of a nightmare. We actually ended up sitting in traffic for about one hour off the 71 Freeway 25 exit, which is less than a mile from the tournament. There was a massive back up. If you want to avoid this traffic, stay away from exit 25 at all costs. Use Exit 24 and come into the stadium from behind on the north side of 71. 
The whole traffic thing can be avoided though if you stay north of 71 and near the tournament. Next year, we'll be doing this. You should to if you want to get the most value from your ticket. 
Where to eat
This tournament definitely does a better job with the drink selection than the food selection. No matter how fancy a food tent may want you to think it is, its just always a big disappointment. Plastic utensils, paper plates, and lackluster choices – plus big massive lines! Let's not forget we came for the tennis not the food. I suggest that if you're there for the day session you have a nice big breakfast somewhere and if you're hungry during the day session, you grab a hot dog from the "Market" located off the stadium or a pretzel from the cart vendor just south of the food court. 
Also, the "Market" off the stadium court is located right off the fan zone, so It's convenient. It serves hot dogs, sandwiches, alcoholic and nonalcoholic beverages and it's quick. 
What to drink
This is where I thought the tournament did a good job. There were plenty of bars and beverage stations all around the grounds. There were tequila bars, a champagne bar, and general bars. We hit them all, as they were all very conveniently placed, and quick. We especially loved the Moet Champagne Deck, where they were serving sparkling wine and for those with deeper wallets, champagne. 
The best courts to watch tennis ranked
If one goes to a professional tennis tournament, you're going to want an experience that will beat watching it on TV. Sitting at a big massive stadium does not beat that experience. What beats that experience are small intimate courts with great fan seating. Cincinnati has those by the dozen. Here's the best courts:
1. Porsche Court: this is my favorite court. It is nicely sunken in, and the seating is close to the action.
2. Stadium 3: this is a bigger court, but its open seating and the atmosphere can be a lot of fun. There are some big matches played here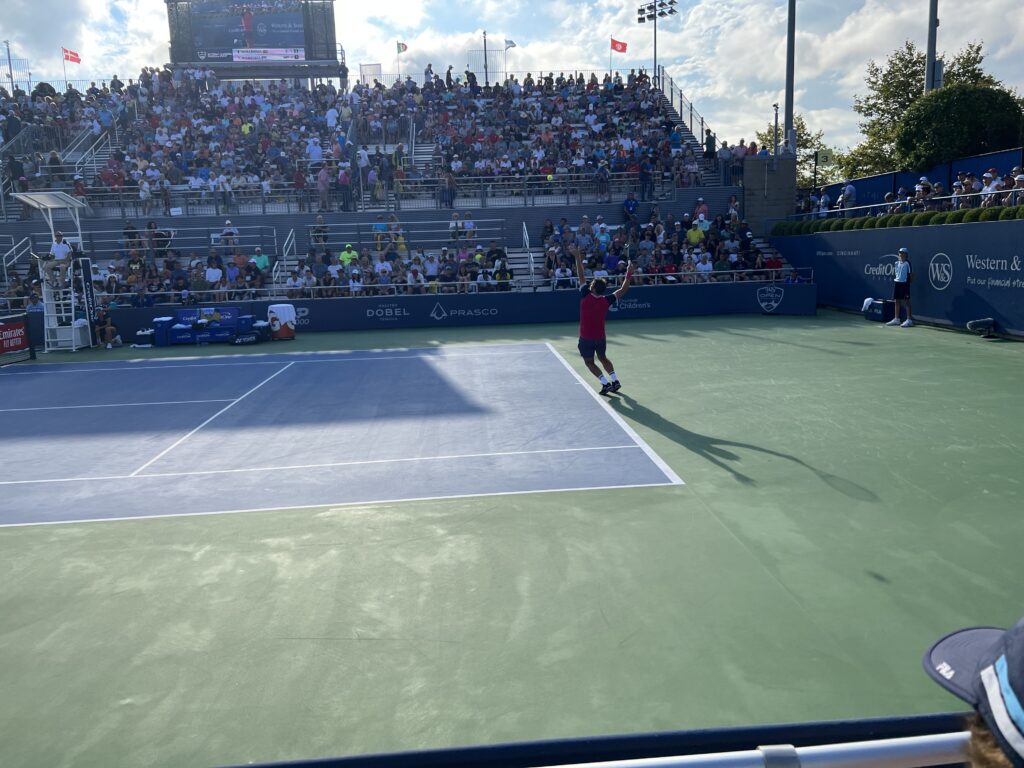 3. Court 11: another smaller court that is very intimate. 
4. Grandstand: by pass the stadium court tickets and buy yourself a seat at the Grandstand. You'll have a great view of the action and high seeds are frequently shown here. I saw Aliassime vs. Berrettini in the grand stand.
As for parking, it's free! 
Like always, don't forget to jump on to the TennisPAL app to stay up to date on tennis news, find groups of friends to play with, and get a virtual coach to help with your tennis game.